Comedy Central's Nick Swardson's Pretend Time panel took place on Saturday, October 9, from 7:15pm to 8:15pm. Panelists Nick Swardson, who was celebrating his birthday that day, and Jon Glaser sat between two large promotional posters, introduced themselves, and showed the first episode–which airs tonight at 10pm EST–after which they briefly discussed a few points before opening the panel to questions from the audience. Everyone who asked a question received a copy of Swardson's DVD, Seriously, Who Farted? (2009).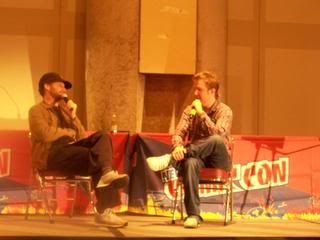 With good humor, Swardson acknowledged the number of sketch shows that have aired on Comedy Central, but pointed out that unlike the Chappelle's Show's format, where Dave Chappelle would introduce each sketch to a live audience, Pretend Time's format jumps right in to the first sketch and each sketch flows into the next. There was no pilot episode, either. Therefore, the first episode, Swardson admits, feels a little disjointed.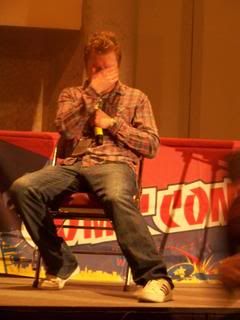 Indeed a couple sketches did fall a little flat or go on for too long. Wheelchair Cat was very cute, Garry Gaga and Gay Robot were pretty funny, but the Donkey Show sketch felt like it was reaching–and not around. Irreverent humor, when done effortlessly, is excellent. The sketch featuring Swardson as a dad exploiting his dying son so he can do stuff off the son's alleged bucket list is actually far superior and more irreverent than the Donkey Show sketch.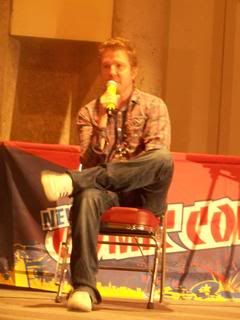 Furthermore, if the idea is to have one sketch transition into the next, then Swardson might be on to something. He's funny, and Glaser has his finger on the pulse of sketch comedy. With the right team of writers perhaps they could have a more cohesive end result, a show in the style of Mr. Show with Bob and David (which they did not reference but which comes immediately to mind as well-written funny that set the bar pretty high) without being an exact replica, of course. It will be interesting to see what future episodes bring.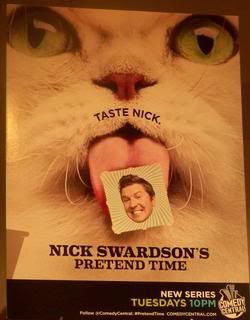 Although the first episode features guest star Ryan Phillippe and actress Natasha Leggero (Ugly Americans), Swardson says he doesn't want the show to be about getting recognizable faces. He'd like the comedy to stand on its own, he explains, and so would like to stick with using unknown, up-and-coming comedians.
Swardson was not out of place at the New York Comic Con. He was a big DC guy who "read all the Batmans" and a serious gamer. He said at one point all three gamer tags he had were banned at the same time. He also lost the security deposit to his old apartment thanks to three broken window, a damaged wall, and a broken fireplace–all from Xbox controllers he flung in frustration.
The audience learned a bit of trivia. The part of the robot guy, J.P., in Grandma's Boy was supposed to be played by Frankie Muniz (Malcolm in the Middle), but apparently someone messed up the deal.
Though busy with the new show, Swardson will be starring in "a hard R comedy" called Born to Be a Star, hitting theaters in April 2011, and also starring Christina Ricci, Stephen Dorff, and Don Johnson. Swardson plays a young man from Iowa who goes to Los Angeles to follow in his parents' footsteps and become a porn star. Even though he's never had sex. And has a really small penis.
Nick Swardson's Pretend Time airs Tuesdays at 10pm on Comedy Central.