Signings galore at the 2010 New York Comic Con drew countless fans who weaved through aisles packed tightly with costumed and non-costumed folk looking at displays; forming lines to receive free comics, pins, Lantern rings, and posters; and meticulously combing through box after box of $1 to $2 comics just to get to their heroes and idols.
At an event that promised Stan Lee, Todd McFarlane, and Bruce Campbell, with singings and enticing panels, such as the Battlestar Galactica event, overlapping or happening at the same time, one fan clutched her list and navigated the nerd sea to get to a coveted few.
First on her list was the Venture Bros. signing, which began about fifteen minutes behind schedule and was one of the first major events on Saturday, October 9. She was significantly back in the line and watched the time nervously while clutching her friend's Season 3 DVD cover. Lucky to get in the room, she was dismayed to see it was a tiny space and so to accommodate as many in the line of more than 100 people behind her, organizers were rushing things along. Despite the hustle, she was able to get Doc Hammer to say "Blue Windbreaker," and swears that next year she will bring her own blue Windbreaker for the duo to sign.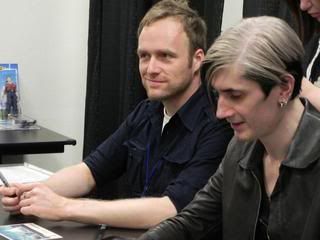 Disappointed to learn that the hardcover edition of Beasts of Burden was sold out, she was still able to get a free copy of the comic's first issue signed by Evan Dorkin, the creator of Milk & Cheese. She was able to acquire a copy of the 2010 Liberty Annual, which includes an all-new Milk & Cheese story by Dorkin, but not in time to find him again.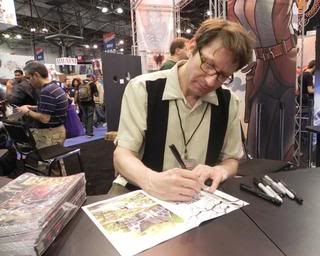 Next up was the race to find the line for Adrien Brody. On the most crowded day of the event, this line was one of the most frustrating, chaotic, and overwhelming of the morning. Security wrapped people around so the line was parallel to a separate line waiting to go into the Alien booth (Alien Experience, promoting the new Blu-ray special edition anthology, pictured below Brody), and since it was in a thoroughfare of sorts leading to Artist Alley people in the Brody line formed clusters that made it easy for cutters to sneak in. Fans stood in line for nearly two hours, if not more, and the signing got started well behind schedule, which didn't help matters any. The lucky fan, however, still managed to be 55 in a line that was to be cut after the 100th person.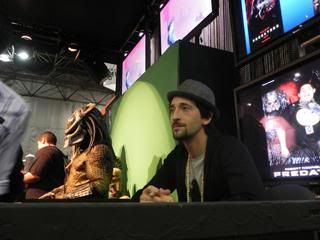 The fan was unable to get to Darwyn Cooke's signature on Saturday, immediately following his panel, which she attended, so she had to settle for finding him on Sunday, the final day of the convention. She was about fifteen people back despite loitering and asking when and where his line would form since 10am that morning. Handing over her hardcover edition of The Outfit, she watched as he chatted with his editor and someone from the booth, while coloring in part of the frontis art and signing his name. She thanked him for New Frontier, and most of all for respecting the reader and the medium and shook his hand.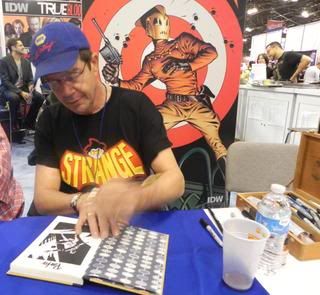 It's good to see that even in the midst of the chaotic clusterfuck that Saturday was, people were still able to walk away with the satisfaction of having met their heroes in the flesh.