Comedy Central's Ugly Americans panel took place on Saturday, October 10, the Comic Con's busiest day, from 6:15pm to 7:15pm. Randy Pearlstein, one-time Rutgers professor, screenwriter for Cabin Fever, and voice of wizard Leonard Powers, moderated. Panelists included animation director Aaron Augenblick, executive producer Daniel Powell, creator Devin Clark, Matt Oberg (Mark Lilly), Kurt Metzger (Randall Skeffington), and Larry Murphy (Lt. Grimes).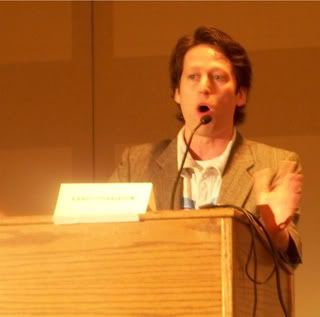 This high-energy panel, driven mainly by Pearlstein and comedian Metzger, who never stopped riffing off audience members, was jam-packed with clips from an upcoming show, anecdotes, hilarity, general shenanigans, and even trivia.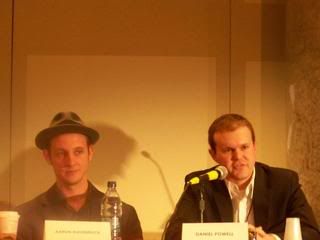 Clark, the show's creator, tells the audience that the show was born out of one page divided into eight panels on which he drew every monster and sci-fi freak he imagined. When Clark connected with former Simpsons writer David Stern, it was Stern who helped shape the characters and made it work as a 30-minute show. Stern, Clark says, was unable to attend the NYCC because he's back in Los Angeles working on the second season. Stern is the man responsible for beloved Simpsons episodes such as "Duffless" and "Kamp Krusty."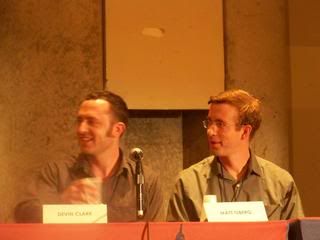 The writers work in one place, Clark explains, and then e-mail the script to the actors (some of whom are on the East Coast), who record their voices at home and then send it over to Augenblick Studios. The Brooklyn-based studio is ten years old, and has worked on Wonder Showzen and Superjail. Augenblick Studios also worked on Golden Age, which is where Augenblick met Powell.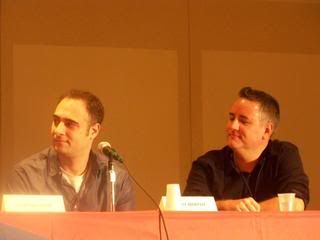 Though the studio does have Macs, it uses PCs (Flash), and the animation is hand-rendered. Fans should pay closer attention to the characters' facial expressions on the show. One fan astutely pointed out Callie's eyebrows in the shower scene of Season 1, Episode 2, "Three Hole," viewable on Comedy Central's main site. Powell added that the Toronto-based Cuppa Coffee Studios works on much of the show's animation as well, handling the pre-production animation produced in Flash by Augenblick Studios.
Though revealing no spoilers, particularly about Callie's three-hole, the panelists did share that sometimes they write things into their scripts to see what editorial and legal edits come back, particularly from Standards and Practices, who tend to send back amusing notes. They also confirmed that especially with Metzger, they encourage improvisation and allow him to go off script. As far as upcoming special guests go, panelists announced fans could expect to hear Maria Bamford soon.
Before opening up the panel to questions from the audience, during which Metzger continued riffing off audience members and fellow panelists alike and producing many cackles, the panel rolled a short video prepared by Natasha Leggero, who voices Callie Maggotbone. She was unable to attend but wanted to send New York a funny hello, which she wrapped up in character: "See you in hell, nerds!"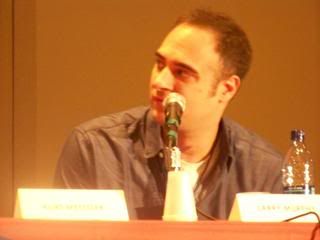 The Q&A portion segued into a quick trivia game, and the winner received Season 1 and a signed limited-edition hardcover book.
Ugly Americans airs Wednesdays at 10:30pm on Comedy Central. "Finally."