Adult Swim's Venture Bros. panel took place in the IGN theater from 8pm to 9pm. Panelists Doc Hammer and Jackson Publick took their seats. Wasting no time, Hammer announced, "We have nothing prepared for you because we have been working on the season."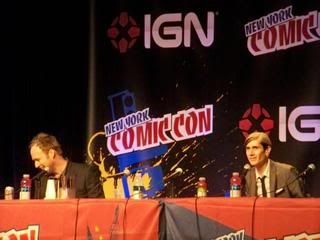 Before officially opening the entire panel to questions from the audience, Hammer decided to give the voice of Dean Venture, Mike Sinterniklaas, a call.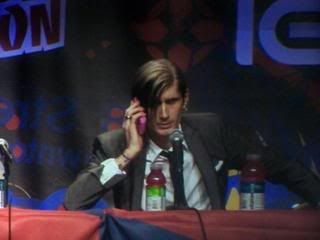 Hammer asked Sinterniklaas where he was and whether he was going to attend the panel, and reiterated a couple times to a presumably doubting Sinterniklaas that he really was calling from the panel while it was going on, and keeping the audience in the loop, confirming to them that Sinterniklaas was on his way.
While waiting for Sinterniklaas, the duo referenced last week's episode, "Everybody Comes to Hank's." Publick confessed he was afraid they'd jumped the shark with it, and Hammer explained he had bet Publick the audience would probably love it. The audience clapped and cheered to show its overall approval for the episode and Hammer turned to Publick and said, "You owe me five bucks."
One would think that the lack of prepared material would make for a pretty flat panel, but such is their wit, sharpness, and ease that it was as if a theater's worth of strangers were suddenly privy to an intimate gathering of three cool guys engaging in badinage with one another and, therefore, with them. Hammer, especially, seemed very comfortable and chatted candidly. Publick and Sinterniklaas were more reserved, though still engaging.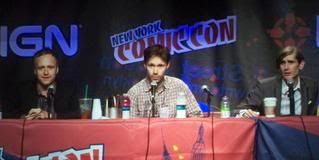 Audience questions included asking Hammer whether he would be a top or bottom should he ever have the chance to "make sweet love" to David Bowie and one female fan who seemed to be asking Hammer whether it bothered him to get chased around by women. Hammer's response? "I've waited since middle school for this!… I used to be tripped into my locker… and now women send me cookies!"
Another fan made two references to Triana, voiced by Hammer's now ex-wife, Lisa Hammer, who ultimately asked where all the female characters went. Though he did not address her references to Triana, Hammer did confirm that Dr. Girlfriend would appear in the upcoming episode and that fans could expect to see appearances by the incredibly sexy Molotov Cocktease in future episodes.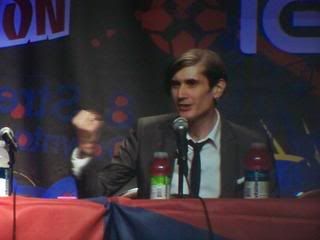 Although adamantly refusing to reveal juicy spoilers, the trio did share some fun factoids. At last year's panel, fans requested all moppets all the time, and the team delivered. When one fan expressed sympathy for them, Hammer explained, "No one likes the moppets. Not even Dr. Girlfriend, who," Hammer added in character, much to the audience's delight, "finds them a little creepy…. Even the villains hate them."
Furthermore, they finally have action figures and bobble heads for sale. There's a Brock Samson action figure, for example, with plans to release a few more characters soon. Fans should not hold their collective breath for a Sgt. Hatred figurine. The toy stores won't likely carry a doll depicting a child molester. The availability of action figures, of course, means that chances are high for a crossover with Robot Chicken. Remarkably, there were a few boos (from maybe a couple of people seated near the front), which Hammer scoffed at, pointing out, "When people say they don't like something, we give you more of it." One audience member nodded her head and smiled approvingly while whispering, "That's why you're my type of funny."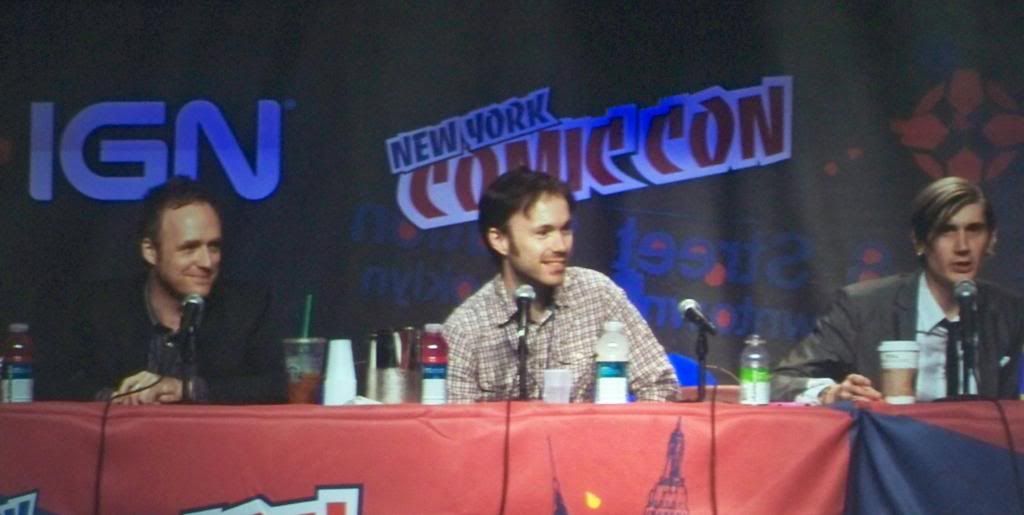 When asked what inspired the duo to write "The Order of the Triad," Hammer answered, "To give Orpheus buddies."
Most notably, Publick and Hammer want everyone to understand that Brock Sampson is not Hank's biological father. "Tell everyone you know!" Hammer said.
One reason why the show strikes such a chord with its fan base is the smart writing that references everything from Jonny Quest to characters from Fear and Loathing in Las Vegas to William Burroughs's poor marksmanship skills. It was, therefore, an especial delight for many to hear Hammer say that since starting the show, he's wanted to have Hank say, "Stop wasting my time time"–a nod to the Cars–because "it would be funny if Hank knew a Cars song."
Watch new episodes of the Venture Bros. on Sundays at 11:30pm.