Adult Swim's Children's Hospital panel took place from 4:30pm to 5:30pm on Friday, October 8, at the NYCC. On the panel were creator, writer, and actor Rob Corddry (Hot Tub Time Machine, The Daily Show with Jon Stewart), executive producer Jon Stern (The Ten, Scotland, PA), actress Erinn Hayes, and actor Rob Huebel.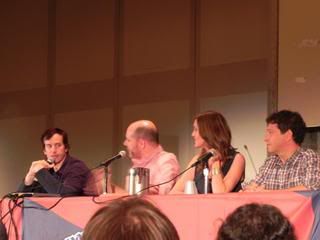 Children's Hospital began as a web series created during the writers' strike, which now counts as the show's first season. Adult Swim picked them up for the second season and now a third.
A little behind schedule, Adult Swim rolled the first clip–a full 15-minute episode–as soon as the panelists took their seats. It featured actor Ken Marino (The State), who plays Dr. Glenn Richie, sporting a Fall Out Boy haircut to impress the cute doctor on whom he has a crush. Dr. Lola Spratt, played by Erinn Hayes, a seemingly inept doctor who is seen stabbing a slab of meat she believes might be an organ, teases and torments him for most of the episode and is absolutely hilarious as she nails with perfect comedic timing some of the most absurd lines. Titled the "Coffee Machine Paid for Itself," the episode wraps up with a pretty funny Godwin moment, as poor Glenn dons a Charlie Chaplin costume and tries to learn German on the quick. It was very well received by the audience.
After introducing themselves, the panelists took questions from the audience. Corddry explained that he is happy with the 15-minute format because of the show's humor, which he feels cannot really work for a full 30 minutes. And they certainly push the envelope, especially since the show airs on Sundays at midnight, with re-runs on Sundays at 2:30am and Fridays at 1am.
When asked what prompted him to create the show, Corddry, without missing a beat, answered, "I beat my daughter up and brought her to the hospital." Irreverent humor aside, Corddry's daughter broke her arm, and when he took her to the hospital he noted how depressing the environment is. Although there was nothing funny about that entire day, Corddry got the idea for this very funny and hilariously dark show and gave himself the worst job. His character, Blake, wears clown makeup, which he explained is very heavy so that it makes his eyelids droop after a few hours.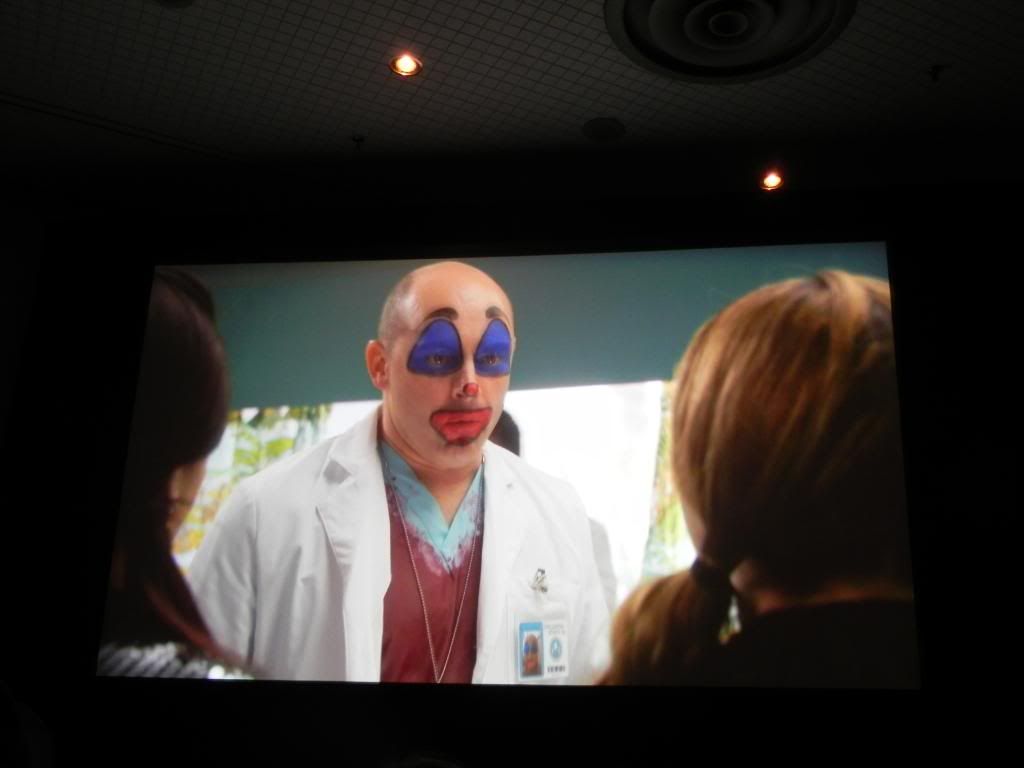 As usual with NYCC panels, a few of the audience questions were inane, such as one audience member who asked Corddry, "Are you a god?" Corddry answered, "I'm a demi god…. I can take the form of an animal and rape you." Another audience member who seems to make it a habit of asking pointless and time-consuming questions at every panel he attends every year was trying very hard to connect the show to Jon Stewart, but the panelists, spearheaded by Corddry, never lost control of the room. As one audience member noted, the beauty of having a comedian who is used to handling hecklers is that they can quickly neutralize a troublemaker while still keeping the panel moving forward in an engaging and entertaining manner.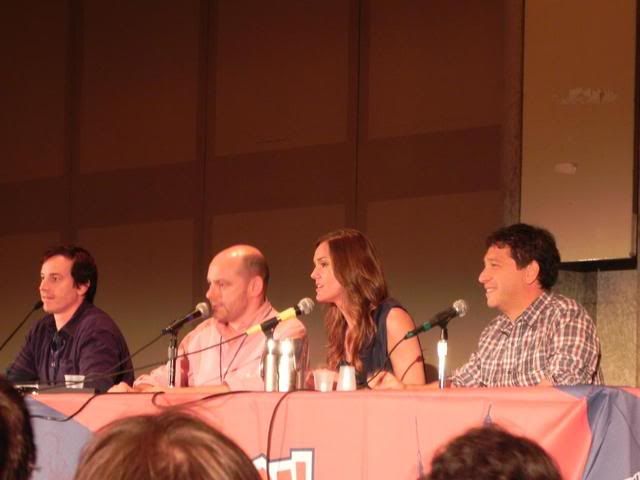 Not all the questions inspired groans from other audience members. One guy asked Corddry where he gets his inspiration to play Blake. "Jesus Christ," he answered, kissing his fingertips and raising his hand up high. "Black Jesus. All the Jesi." Asked about improvisation, Corddry answered that several moments on the show are indeed improvised. Another panelist noted all the talent the show has or has had from The State and asked whether they'd return for the third and future seasons. Corddry and Stern explained that as far as they are concerned there is an open-door policy for cast members of The State. Guest stars to look out for include Rachael Harris, Ed Begley Jr., and Alicia Silverstone.
Corddry even shared a bit of neat television trivia. Michael Cera plays the character of Sal Viscuso, who does the PA announcements at the Children's Hospital, and is never on-screen. He's named for one of the actors who did the PA announcements on the television show M*A*S*H, and likewise never appeared on-screen.
The panel closed with what the panelists claimed were deleted scenes from the show, but were actually clips of real surgery. The audience sat transfixed–perhaps horrified, certainly grossed out, and mostly cackling. The final shot was of a woman giving birth, and as the audience groaned, Corddry chastised, "That is where you all came from!"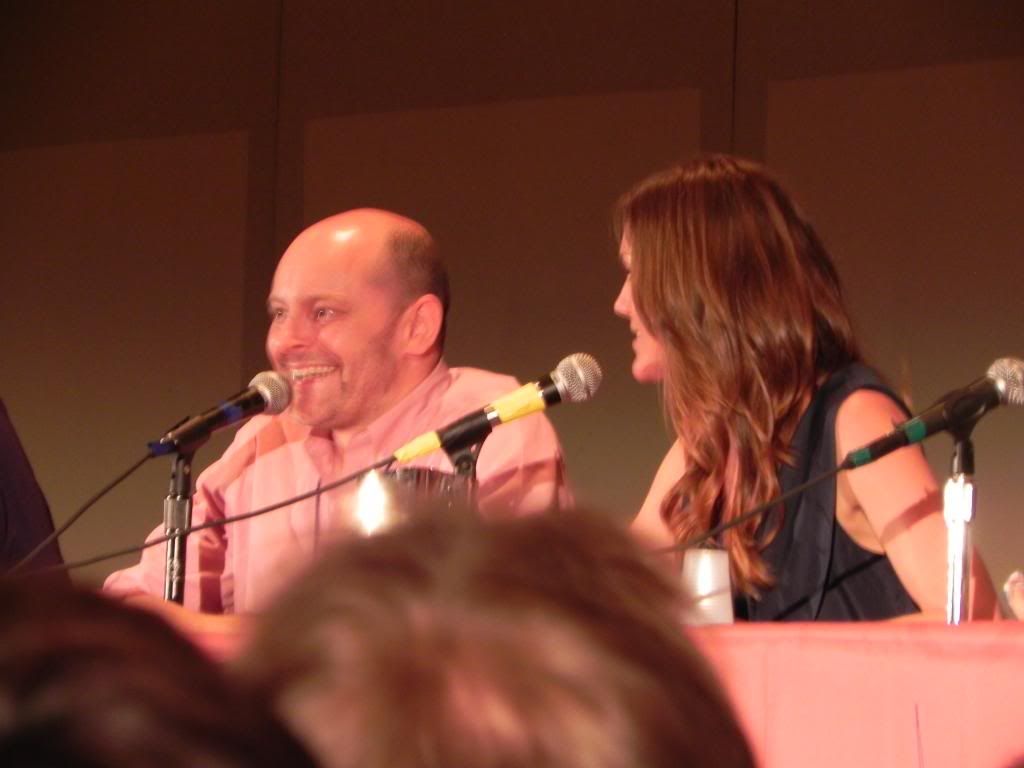 "The Coffee Machine Paid for Itself" airs at midnight on Sunday, October 17, on Adult Swim.