Adult Swim's Robot Chicken panel took place in the IGN Theater from 6:45pm to 7:45pm. Panelists included Seth Green, Clare Grant, Matthew Seinreich, and special guest Macaulay Culkin, all four of whom sported funny hats. After the requisite introductions, the panelists prepared to show clips of what fans can expect in Season 5. Green stressed that the footage is raw; they are still working on the season but wanted to show their audience an early peek regardless. As the theater darkened, Seinreich and Green assured that they'd clean up and tighten the footage by the time shows air.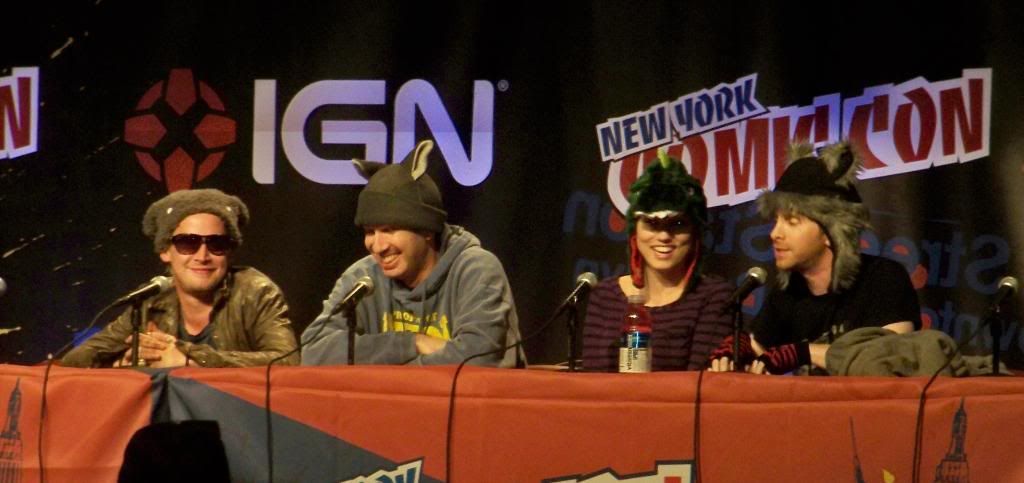 Season 5 highlights include:
"The Robot Chicken Christmas Special," guest starring Macaulay Culkin in his (now infamous?) role of eight-year-old Kevin McCallister in Home Alone, except this time the traps he sets backfire. Needless to say, hilarity ensues. Especially considering that it's been twenty years since the movie came out, Culkin is a hell of a good sport to not only make fun of himself and the character who made him a household name in the special, but also to have graciously handled the rude and hostile questions some audience members asked once the panel opened the floor for Q&A.
The third Star Wars special will be one hour long and Palpatine will be delivering lines such as "I have scrotum for a face" and losing his shit after greeting a large number of storm troopers.
There will be a Transformers 3 spoof. It involves taxi cabs and is a must-see.
Look for Kermit getting his prostate examined.
Watch for Teddy Ruxpin beating the living tar out of Gallagher, after the comedian tries to have Ruxpin play one of his comedy tapes, all to the tune of sweet death metal.
An Oompa Loompa aerobics class? Yes, please!
Tron ripped apart? Of course!
Voldemort gets a nose job. Finally.
Watch Batman repeatedly punch the Joker in the face while Joker screams "ow" over and over and over and over and over and over again.
Mustard porn? Indeed. Mustard squirts on a succulent hot dog while headily whispering, "Rub it in there…. I can smell it." Spicy.
Plenty of Lord of the Rings sketches, including 10 to 12 featuring Gandolf.
Stupid Monkey shorts!
Need some culture? Listen to the Wrath of Khan as an Italian opera. With actual Italian opera singers, one of whom auditioned for the role and returned to Italy that evening. To sing in an opera.
And the season would not be complete without a spoof of Avatar. The team recording a sultry R&B song called, "Blue Rabbits F*cking," which plays as the Na'vi plug their tentacular tails into one another while expressing glee.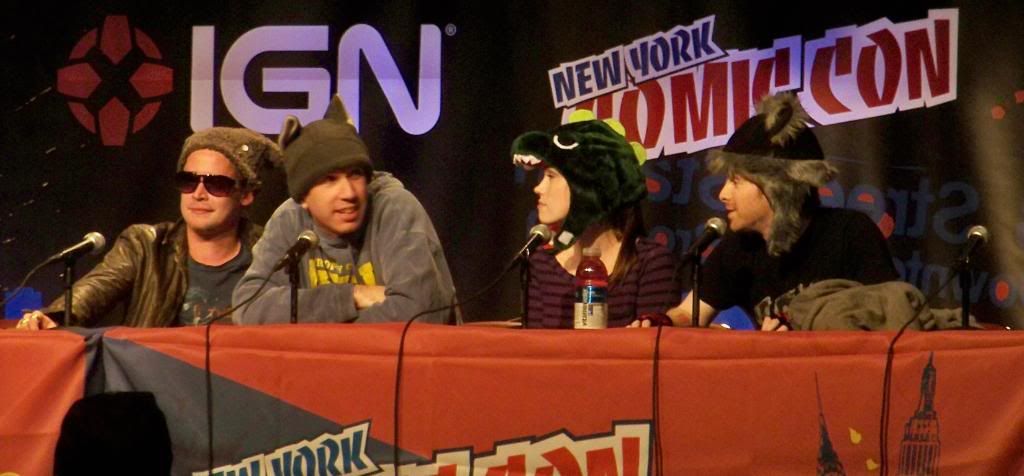 During the Q&A, Green did get some good, or at least solid questions, such as why he opts to use DC characters rather than Marvel ones. He answered, "It's not about the universe, but where we have funny jokes." A few fans were starstruck, which is hardly surprising or unexpected, but it must have been frustrating for those fans who didn't get a chance to ask their questions while those who did recited Green's filmography and television work back to him.
Culkin got questions from a few Robot Chicken fans, who can only be described as passive-aggressively hostile–that special breed of angry nerd that needs to strike out to look cool and perhaps vindicate himself from those tough years in high school. And here was this pretty Hollywood celebrity, who found himself fielding questions about his brother, about why he's done "nothing" since Saved, about when he's going to make a comeback, and other such latently rude questions that Culkin handled with grace. Neither seemingly put-off nor riled up, Culkin answered simply, "I've been hanging out and doing my own thing." Green stepped up to point out the obvious: "He could do nothing for six years and still be more relevant than anyone in this room." And that's just fact. Why were the clips of the Christmas special airing December 19 so funny? Because the audience remembers a movie from 20 years ago.
Green went on to share a story about reaction from Stevie Wonder's people about a sketch they did featuring the singer/songwriter. They sent Green a letter saying that the sketch was "not cool," which Green recalled made them all sad. Green added, "We hope we didn't hurt his [Wonder's] feelings, but we're pretty sure nobody showed it [the sketch] to him."
At the end of the fifth season, Robot Chicken will have 100 episodes, and both Seinreich and Green promised the 100th would be epic.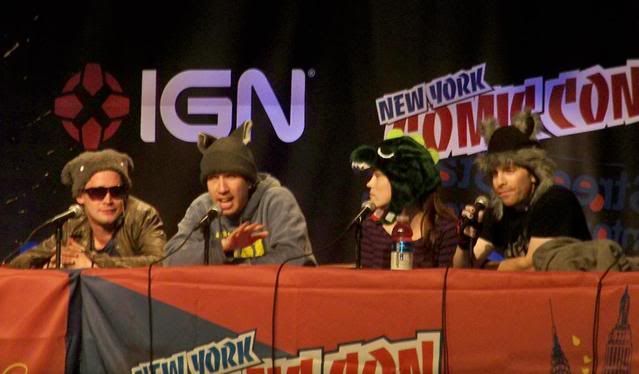 The third Star Wars episode airs December 19, 2010.
Season 5 premiers January 9, 2011.