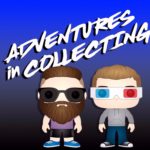 On this special holiday episode of Adventures in Collecting, Dave and Erik cover the usual toy news and hauls before diving into Round 2 of "Name That Toy!" This episode's main topic is "The Ghosts of Christmas Past," where the brothers Weinbrecht discuss two of their favorite memories from childhood Christmases.
Special thanks to Matt Cardona (WWE Superstar Zack Ryder) of the Major Wrestling Figure Podcast for the awesome intro – Listen to the Major Wrestling Figure Podcast here or wherever you enjoy podcasts!
Thanks also to all of our friends, family, guests, and collaborators in 2019 – this year was really special for us and we're so happy to keep bringing you this podcast! Happy New Year – we'll see you in 2020!
Follow us @aic_podcast on Instagram, Facebook & Twitter
Intro by Joe Azzari
Theme Music is "Game Boy Horror" by the Zombie Dandies
Proudly part of The Non-Productive Network