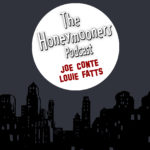 "The Brian Carney Episode: Part 1"

Part 1 of this episode is the complete interview with Brian Carney. We discuss everything from his childhood with his dad Art Carney, his acting career, The Honeymooners, movies, and SO many fantastic stories. This 90 minutes goes by so quick!
---
Support our Show
Back us on Patreon!
---
New! The Honeymooners Podcast T-Shirts!
You can get your limited edition Honeymooners Podcast T-Shirts here while supplies last!
https://tickets.non-productive.com/events/the-honeymooners-podcast-official-t-shirts/
Help support the show and show off your love of the best sitcom of all time!