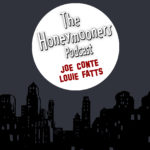 "The Brian Carney Episode: Part 2"

Brian was wonderful and stayed after his interview and hung with us and did a full episode with the usual malarkey! We have fun with one of Brian's favorite scene of his dad's from the show. One and done Player of the Week and some Ken Lynch Stuff!
---
Support our Show
Back us on Patreon!
---
New! The Honeymooners Podcast T-Shirts!
You can get your limited edition Honeymooners Podcast T-Shirts here while supplies last!
https://tickets.non-productive.com/events/the-honeymooners-podcast-official-t-shirts/
Help support the show and show off your love of the best sitcom of all time!