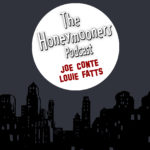 "Am I Worthy of Such an Honor?"

This episode we piled on the Neapolitan Knockwurst toppings on the OLD good for nothing pizza of ours.
Art Carney's Birthday
Jackie on Broadway?
Hip Hop artist "Skribbal" loves The Honeymooners Podcast!
It's our very first FGNOTW (listen to know what that means)
A Brand New Flub
One and Done Player of the Week and more!
---
Support our Show
Back us on Patreon!
---
New! The Honeymooners Podcast T-Shirts!
You can get your limited edition Honeymooners Podcast T-Shirts here while supplies last!
https://tickets.non-productive.com/events/the-honeymooners-podcast-official-t-shirts/
Help support the show and show off your love of the best sitcom of all time!