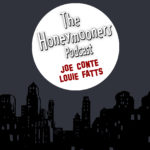 "I Heard Shots!"

After a few weeks hiatus because Conte got Covid, (he has recovered nicely) and BOY are we back with the vengeance of a couple of thugs who shot the night Watchman!
We have a LOT happening in this episode including some voicemails coupled with some Flubs, a Louie's Observation from a familiar episode, yea you know which episode.
We do a Joke that Deserved More Love, Conte also has an Observation where we slipped in a classic Flub and we even chat a little about Car 54 and the classic movie "My Fair Lady"
Rx and we are happy to be back !!