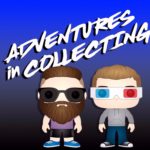 Toy Fair has come and gone, and Non-Productive is here to recap some of our favorite highlights from the show, including…
LEGO!
Calico Critters!
Jazwares' AEW Wrestling and Fortnite figures!
GI Joe!
Transformers models from Flame Toys!
Pea Pod Babies!
Boss Fight Studios' Legends of Lucha Libre and their Flash Gordon, Zorro, Phantom, and Tarzan figures!
NECA's Defenders of the Earth!
Spinmaster!
McFarlane Toys' DC Multiverse Line!
Gamewright's Dungeon Drop!
The Fox-Verse in Marvel Legends!
Deadpool! X-Men! 90s Spider-Man!
Enesco's The Addams Family Village!
SOMEHOW EVEN MORE!!!
Oh, and the Transformers: War for Cybertron Netflix Trailer Drop?
Featuring our guests for the big show, Erik and Dave of Adventures in Collecting. Listen!