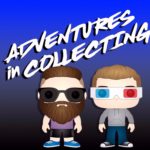 This week Dave and Erik are joined by Dan Yun from the Hasbro Marvel Legends team! Learn about his history with toys and how he got his start with Hasbro. Then hear about the latest HasLab project, including the opportunity to clear the air regarding some misconceptions about the campaign, as well as some follower Q&A!
Follow Dan on Twitter @danyunistrying and keep up with the latest from Hasbro at HasbroPulse.com.
Use our special link zen.ai/aicpod and use aicpod to save 30% off your first three months of Zencastr professional. #madeonzencastr
This podcast is sponsored by BetterHelp. Visit betterhelp.com/aic to get 10% off your first month.
Follow us @aic_podcast on Instagram, Facebook, Twitter, and YouTube
Intro and other voices by Joe Azzari
https://www.instagram.com/voicesbyjoe/
Theme Music is "Game Boy Horror" by the Zombie Dandies
Proudly part of the Non-Productive Network