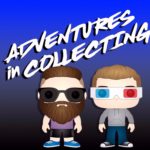 There are legends, and then there are Marvel Legends. Completing the set of the Android, the Alien, and the Wizard, we are joined by real life Wizard and Marvel Legend Dwight Stall from Hasbro to talk all things Marvel Legends, HasLab, toy design, and even an impromptu "What if" we could build a soccer team from Marvel characters.
Follow Dwight on Instagram @stalldwight and keep up with all of the Hasbro goings on @hasbropulse!
Ready to shop better hydration, use our special link https://zen.ai/aicpod20 to save 20% off anything you order.
Save 12% at BlendJet – use our special link and the discount will be applied at checkout! zen.ai/aicpod12
Follow us @aic_podcast on Instagram, Facebook, Twitter, and YouTube
Intro and other voices by Joe Azzari
https://www.instagram.com/voicesbyjoe/
Theme Music is "Game Boy Horror" by the Zombie Dandies
Proudly part of the Non-Productive Network