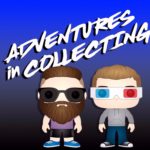 Hey you… yeah, we're talking to you. Listen buddy, go POP! Yourself. And while you're at it, POP! your friend, your partner, and your parent! No… seriously… turn yourself and your loved ones into Funko POP! vinyl figures! Listen to this fireside chat led by Funko's VP of the POP! Yourself program and Retail as he discusses the newly launched product and talks about what's to come!
Visit funko.com today to POP! Yourself and be sure to follow @originalfunko on Instagram for the latest updates.
Ready to shop better hydration, use our special link https://zen.ai/aicpod20 to save 20% off anything you order.
Save 12% at BlendJet – use our special link and the discount will be applied at checkout! zen.ai/aicpod12
Follow us @aic_podcast on Instagram, Facebook, Twitter, and YouTube
Intro and other voices by Joe Azzari
https://www.instagram.com/voicesbyjoe/
Theme Music is "Game Boy Horror" by the Zombie Dandies
Proudly part of the Non-Productive Network