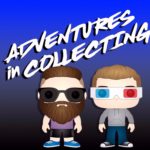 "It's like Lavender, but with a 'C'"
On this episode Dave and Erik sit down with Justin Cavender, Digital Content and Design Coordinator at Bluefin AKA Bandai Namco Collectibles to talk about imports, the significance of Jaws 3-D, and even answer a question a two from you guys on Instagram! Listen now to learn more about Monster Hunter, Dragon Ball Z, Gundam, SH Figures collectibles, and so much more!
Hear Justin on the Geek Legacy's flagship and Pixelated podcasts:
http://www.geeklegacy.com/category/podcast/
Hear Justin on the Don't be Crazy Podcast:
https://dontbecrazy.podbean.com
And Follow him @edgyarmo on Instagram and Twitter, and make sure you're following @bluefinbrands on Instagram and Twitter for the latest news from Bandai Namco Collectibles!
Follow us @aic_podcast on Instagram, Facebook, Twitter, and YouTube
Intro and other voices by Joe Azzari
https://www.instagram.com/voicesbyjoe/
Theme Music is "Game Boy Horror" by the Zombie Dandies
Proudly part of the Non-Productive Network