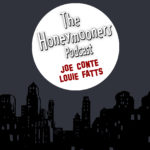 "It's GOOD to see you!"

Well after our longest hiatus ever we are back and we may be a LITTLE rusty but was a fun show!
Lots of questions for you guys this episode:
Delicious Mystery Flub?
The Phonograph and Record Player
Was Mrs Manicotti a rat?
Trivia, a new Voicemail, a new Full Grown Nut of the Week and more!
It's GOOD to be back
---
Support our Show
Back us on Patreon!