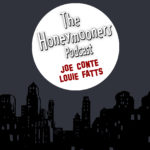 "D-D-D-D-Don't do that!"

This episode we get right back to what we do best, sound effects! We revisit a line from last episode, Ira sends us an inquiry about an Alice line, a very long applause, a great message from Richie The Mole, Streets mentioned on the show and of course our latest Full Grown Nut of the Week. Trivia also!
---
Support our Show
Back us on Patreon!
---
New! The Honeymooners Podcast T-Shirts!
You can get your limited edition Honeymooners Podcast T-Shirts here while supplies last!
https://tickets.non-productive.com/events/the-honeymooners-podcast-official-t-shirts/
Help support the show and show off your love of the best sitcom of all time!