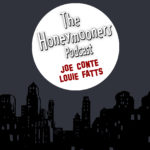 "They say 'Tally Ho' when they're Fox Hunting"

This episode we talk a little about the passing of the great Gilbert Gottfried, we have a new FGNOTW, Who screamed?, Better Than Hello Ball, and another great Louie's Observation. Oh, and trivia of course!
---
Support our Show
Back us on Patreon!
---
New! The Honeymooners Podcast T-Shirts!
You can get your limited edition Honeymooners Podcast T-Shirts here while supplies last!
https://tickets.non-productive.com/events/the-honeymooners-podcast-official-t-shirts/
Help support the show and show off your love of the best sitcom of all time!