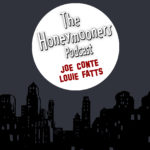 "I Don't Know, it's Kinda Subtle"

Coming off the heels of The Brian Carney interview we get right back in the drivers seat!
A new Full Grown Nut of the week
A fantastic voicemail
We recap our fun with Brian Carney
Two Louie's Observation from TV or Not TV
The Humphrey Davis Quandary
Trivia and more !
---
Support our Show
Back us on Patreon!
---
New! The Honeymooners Podcast T-Shirts!
You can get your limited edition Honeymooners Podcast T-Shirts here while supplies last!
https://tickets.non-productive.com/events/the-honeymooners-podcast-official-t-shirts/
Help support the show and show off your love of the best sitcom of all time!