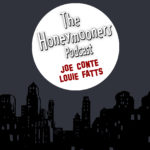 "Don't Forget the 50-Minute Lecture"

We don't even know where to start with episode 91, so will start from the beginning:
Full Grown Nut of the Week, new voicemail, listeners making fun of our new email address, Mr. Faversham is a real name, Trixie's shiny dress, the pin cushion, AdLib or Not an AdLib, Safety Award flashbulb, a revisited from last week, and finally Trivia.
---
Support our Show
Back us on Patreon!
---
New! The Honeymooners Podcast T-Shirts!
You can get your limited edition Honeymooners Podcast T-Shirts here while supplies last!
https://tickets.non-productive.com/events/the-honeymooners-podcast-official-t-shirts/
Help support the show and show off your love of the best sitcom of all time!