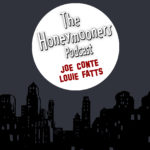 "A Slip of a Ship Can Sink a Lip"

Episode 90 starts off with our new full grown nut of the week, two different possible Adlibs, BUT a little different. We revisit the train from last week, our one-and-done player of the week is a gem, and Ken Lynch makes an appearance!
---
Support our Show
Back us on Patreon!
---
New! The Honeymooners Podcast T-Shirts!
You can get your limited edition Honeymooners Podcast T-Shirts here while supplies last!
https://tickets.non-productive.com/events/the-honeymooners-podcast-official-t-shirts/
Help support the show and show off your love of the best sitcom of all time!