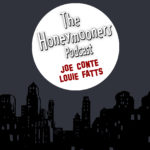 "Throw Norton From the Train"

Episode 89 is a laugh fest that may just be Louie and Joe "losing it" a bit. Aside from that, this episode takes place mostly on the train to Minneapolis, or is it Norfolk Virginia? Either way it's loaded with lots of Good Clean Fun.
---
Support our Show
Back us on Patreon!
---
New! The Honeymooners Podcast T-Shirts!
You can get your limited edition Honeymooners Podcast T-Shirts here while supplies last!
https://tickets.non-productive.com/events/the-honeymooners-podcast-official-t-shirts/
Help support the show and show off your love of the best sitcom of all time!