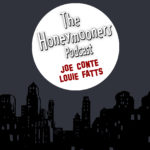 "The Going Over What You Already Know Review of 2021 Extravaganza"

We do an extended episode (a little late but Louie and Joe were both measled) loaded with some of our finest moments of 2021. Including voicemails, Ken Lynch, Angelina Manicotti, Mike O'Dowd and a lot more!
---
Support our Show
Back us on Patreon!
---
New! The Honeymooners Podcast T-Shirts!
You can get your limited edition Honeymooners Podcast T-Shirts here while supplies last!
https://tickets.non-productive.com/events/the-honeymooners-podcast-official-t-shirts/
Help support the show and show off your love of the best sitcom of all time!