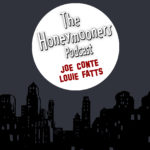 "The Poor Little Fat Kid"

This episode we nominate another full grown nut of the week, we found a flub inside a scene with a Flub (or something like that). We have a very interesting AdLib or not an AdLib. We also bring back the classic "Whatever happened to…?" Bit and we finish with trivia. A load of laughs for all!
---
Support our Show
Back us on Patreon!
---
New! The Honeymooners Podcast T-Shirts!
You can get your limited edition Honeymooners Podcast T-Shirts here while supplies last!
https://tickets.non-productive.com/events/the-honeymooners-podcast-official-t-shirts/
Help support the show and show off your love of the best sitcom of all time!