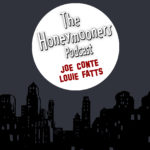 "The Re Re RECALL of the week "

This week we Re RE visit a few topics we already covered just to add a little to them. We PROMISE this will be the last we hear of Judy Conners for a Long time.
We also get into Joe Fensterblau and how much of a jerk he is, we do an AdLib or Not an AdLib and we announce a brand new weekly bit to let YOU nuts shine! And Trivia of course!
---
Support our Show
Back us on Patreon!
---
New! The Honeymooners Podcast T-Shirts!
You can get your limited edition Honeymooners Podcast T-Shirts here while supplies last!
https://tickets.non-productive.com/events/the-honeymooners-podcast-official-t-shirts/
Help support the show and show off your love of the best sitcom of all time!