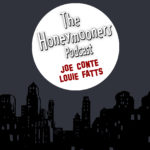 "You SURE gave Kevin Nealon the fast brush"

We are back after a few weeks off because of Louie's back problem and Conte's vacation at Fred's Landing.
We have a lot of fun with the ideas and opinions of some of the Full Grown Nuts called our listeners:
Who does Louie sound like???
Who did Louie see at the barber shop?
Who is Louie impersonating at the end of every episode??
We answer those and many other VITAL questions in this extra long episode. It's GOOD to be BACK.
---
Support our Show
Back us on Patreon!
---
New! The Honeymooners Podcast T-Shirts!
You can get your limited edition Honeymooners Podcast T-Shirts here while supplies last!
https://tickets.non-productive.com/events/the-honeymooners-podcast-official-t-shirts/
Help support the show and show off your love of the best sitcom of all time!