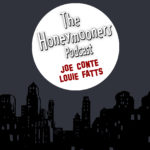 "Ohhhhh You're a GOOD one"

This episode, we first get schooled by a listener about an Ed Norton fancy word from last week, then we dive into the timeline from the iconic "A Matter of Record" episode. Finally, we go through the final scene from the "Mama Loves Mambo" episode with a gaggle of "Ad Lib or NOT an Ad Lib." Hint: It was a landslide. We finish with brand new Trivia game.
---
Support our Show
Back us on Patreon!
---
New! The Honeymooners Podcast T-Shirts!
You can get your limited edition Honeymooners Podcast T-Shirts here while supplies last!
https://tickets.non-productive.com/events/the-honeymooners-podcast-official-t-shirts/
Help support the show and show off your love of the best sitcom of all time!