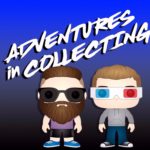 Welcome to the first annual Adventures in Collecting Toy Line Draft! Joining Erik and Dave are ToyShiz and MCUCollector24 (Bryant) as they draft toy lines from the 1990s into 5 distinct categories to create the best toy aisle/team around!
Listened to the episode? Head over to instagram.com/aic_podcast to vote on your favorite toy aisle and help us decide a winner!
Save $5 off of your Magic Spoon order – visit magicspoon.com/aic and use code AIC at checkout!
This podcast is sponsored by BetterHelp. Visit betterhelp.com/aic to get 10% off your first month.
Follow ToyShiz and Bryant on Instagtam @toyshiz and @MCUCollector24
Follow us @aic_podcast on Instagram, Facebook, Twitter, and YouTube
Intro and other voices by Joe Azzari
https://www.instagram.com/voicesbyjoe/
Theme Music is "Game Boy Horror" by the Zombie Dandies
Proudly part of the Non-Productive Network