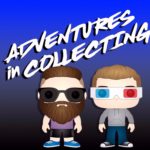 Welcome to a special bonus pod edition of Adventures in Collecting! This time Erik gets some face time with the Hasbro Marvel Legends team following their Spider-Man 60th Anniversary Livestream! Hear about the some of the thought process behind the latest Marvel Legends news including an update on packaging, new articulation, and even the teams' all-time favorite Spider-Man figure!
Big thanks to Hasbro and R&CPMK for arranging this interview.
Follow Ryan and Dwight on Instagram, and Dan on Twitter!
Stay up-to-date on the latest from Hasbro @hasbropulse on Instagram. 
Follow us @aic_podcast on Instagram, Facebook, Twitter, and YouTube
Intro and other voices by Joe Azzari
https://www.instagram.com/voicesbyjoe/
Theme Music is "Game Boy Horror" by the Zombie Dandies
Proudly part of the Non-Productive Network
Advertising Inquiries: https://redcircle.com/brands
Privacy & Opt-Out: https://redcircle.com/privacy