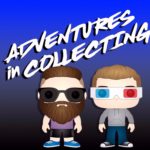 This week we're excited to sit down with Super7 Founder Brian Flynn! Since 2001 Super7 has been bringing toys to life with a keen pop cultural awareness, producing everything from Japanese SOFUBI and Kenner-inspirated ReAction figures from just about every property you can think of, to super-articulated 7″ Ultimates covering the likes of TMNT, Thundercats, wrestling, Ghost, and more. Hear from Brian as he answers our questions (and yours) about the brand's history, creative process, pricing, and more!
Follow Brian and Super7 on Instagram @brianflynn and @super7 and visit https://super7.com for more.
Preorder the latest Super7 releases from Entertainment Earth w/ free shipping over $39. Save 10% on all in-stock items w/ code AICPOD.
Interested in investing in Zencastr? go to wefunder.com/zencastr to claim your slice of the Future of Podcasting!
Get 20% OFF @manscaped + Free Shipping with promo code AIC at MANSCAPED.com
Go to blendjet.com and use code aic12 to save 12% off your order OR use our special link and the discount will be applied at checkout! zen.ai/aic12
Follow us @aic_podcast on Instagram, Facebook, Twitter, and YouTube
Intro and other voices by Joe Azzari
https://www.instagram.com/voicesbyjoe/
Theme Music is "Game Boy Horror" by the Zombie Dandies
Proudly part of the Non-Productive Network