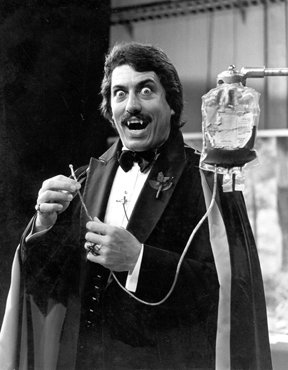 The Count of Five
Real name: Bob McGehee
Years active: 1977-1982, Middle Tennessee
It had been several years since Nashville had a horror host to call its own. With both Dr. Lucifer and Sir Cecil off the air, it seemed like horror hosting was down for the count. It was, but this time the count was five.
The Count of Five, as played by producer Bob McGehee, was a traditional vampire stuck in an untraditional setting. At first it was just McGehee simply being himself, promoting the film that would play at the end of a double feature, but the idea of making him a proper horror host was struck, and with a little hair gel and fake fangs, the Count of Five was born. Along with director Stan Hunter playing various characters, the Count of Five struck terror into the hearts of viewers across the Nashville area.
Taping at the Channel 5 studios, the Count of Five introduced viewers to various old monster and horror movies. In 1982, Channel 5 lost the movies rights to the Shock package. Efforts were made to continue the program with dramatic films and westerns, but it wasn't the same.
Suspense Theatre began on WTVF-5 in 1977 and lasted until 1982. Near the end of its run the name was changed to Movies and Madness. Mr. McGehee is still alive and can be contacted through his website.
"You've got my name on each hand"