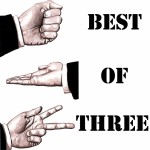 It's time for Non-Productive.com's Board Game Show, BEST OF THREE!
Three hosts each pick their favorite board game of a given genre, and pit them against each other to determine which game reigns supreme!
This week's guests: John Minus from The Alter Negro Sho(w) and Frank!
This week's challenge: Munchkin!