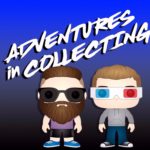 YO JOE! We're back with Emily and Lenny from the G.I. Joe team at Hasbro for a roundtable discussion where Dave asks ONLY questions that were submitted by our followers on social media. Join us along with folks from the Toy Book, HISS Tank, and Gizmodo as we ask questions and get some answers!
Follow Emily, Lenny, and Hasbro on Instagram @morphinomenally_emily, @weatherdominator and @hasbropulse and visit hasbropulse.com for the latest news across the brand!
Ready to shop better hydration, use our special link https://zen.ai/aicpod20 to save 20% off anything you order.
Save 12% at BlendJet – use our special link and the discount will be applied at checkout! zen.ai/aicpod12
Follow us @aic_podcast on Instagram, Facebook, Twitter, and YouTube
Intro and other voices by Joe Azzari
https://www.instagram.com/voicesbyjoe/
Theme Music is "Game Boy Horror" by the Zombie Dandies
Proudly part of the Non-Productive Network