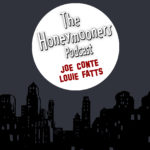 Looking for a getaway from the crazy world we live in? How about a podcast that's hilarious, nostalgic, and filled with love an admiration for one of the greatest shows ever made?
Have we got a podcast for you.
The Honeymooners Podcast! Comedian Joe Conte and his pal Louie Fatts are two full grown nuts & mega fans of the 39 classic episodes of this landmark series. The show has been dubbed "Good Clean Fun" and is filled with funny bits, a LOT of listener participation, trivia and much MUCH MORE.
So grab your Captain Video Space Helmet, and take a trip back to 1955 on 328 Chauncey St in Bensonhurst Brooklyn.
Listen and subscribe now!