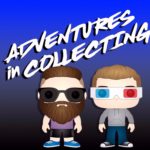 FALL IN PUKES! We recorded our first ever live episode of the pod at Zapp Con and Hasbro's Emily Bader was kind enough to join us. Hear about the latest and greatest coming from the G.I. Joe (and Dungeons and Dragons) toy lines in this special LIVE edition of Adventures in Collecting.
Save $5 off of your Magic Spoon order – visit magicspoon.com/aic and use code AIC at checkout!
Save 10% on your first month of Betterhelp – visit betterhelp.com/aic to match with your therapist now.
Follow Emily on Instagram @morphinomenally_emily and keep up with the latest from Hasbro on hasbropulse.com
Follow us @aic_podcast on Instagram, Facebook, Twitter, and YouTube
Intro and other voices by Joe Azzari
https://www.instagram.com/voicesbyjoe/
Theme Music is "Game Boy Horror" by the Zombie Dandies
Proudly part of the Non-Productive Network