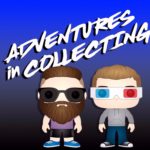 Yo Joe! This week Erik joins voices from around the GI Joe community to talk at a virtual roundtable event with Emily and Lenny from Hasbro's GI Joe team. Hear about the latest news and developments surround the classified and O-Ring lines and more!
Big thanks to Hasbro and R&CPMK for arranging this interview.
Follow Lenny and Emily on Instagram
Stay up-to-date on the latest from Hasbro @hasbropulse on Instagram. 
Follow us @aic_podcast on Instagram, Facebook, Twitter, and YouTube
Intro and other voices by Joe Azzari
https://www.instagram.com/voicesbyjoe/
Theme Music is "Game Boy Horror" by the Zombie Dandies
Proudly part of the Non-Productive Network
Advertising Inquiries: https://redcircle.com/brands
Privacy & Opt-Out: https://redcircle.com/privacy