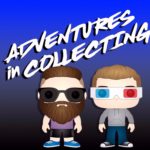 On this special bonus episode, Dave and Erik are joined by Kenneth Siemens from Think3Fold as we launch the 2021 Walmart Collector Con! Hear an update on the Collection Obsession section in Walmart as well as from toymakers participating in this year's con!
Don't miss you chance to own these limited edition collectibles! Visit Walmart.com/collectibles now!
Follow Collection Obsession on Instagram @collectionobsessionofficial.
Follow us @aic_podcast on Instagram, Facebook, Twitter, and YouTube
Intro and other voices by Joe Azzari
https://www.instagram.com/voicesbyjoe/
Theme Music is "Game Boy Horror" by the Zombie Dandies
Proudly part of the Non-Productive Network