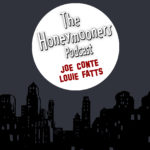 "Calm & Cool… Calm & Cool"

This episode we start with our latest FGNOTW. We analyze the emotions of Alice during the "Thug" scene in Trapped. Louie's Girlfriend gives us a Louie's Observation, a listener gives us an "AdLib" option, and another listener gave us a subtle Flub. Trivia and more!
---
Support our Show
Back us on Patreon!
---
New! The Honeymooners Podcast T-Shirts!
You can get your limited edition Honeymooners Podcast T-Shirts here while supplies last!
https://tickets.non-productive.com/events/the-honeymooners-podcast-official-t-shirts/
Help support the show and show off your love of the best sitcom of all time!