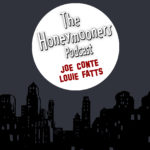 "Look what you did to my CAR… 54!"

This episode, Louie finds some correlations between The Honeymooners and the classic Show "Car 54, Where are you?" We found two instances where Ralph should have been much angrier at Norton, a listener found a Flub, Trivia, a New FGNOTW and more!
---
Support our Show
Back us on Patreon!
---
New! The Honeymooners Podcast T-Shirts!
You can get your limited edition Honeymooners Podcast T-Shirts here while supplies last!
https://tickets.non-productive.com/events/the-honeymooners-podcast-official-t-shirts/
Help support the show and show off your love of the best sitcom of all time!