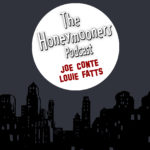 "You didn't close the window all the way"

This weeks episode has all that you need in this world:
Love: We give love and accolades and feature the great character actor Eddie Hanley, who played many many parts in the series.
Laughter: We do a fantastic "One and Done" with "Twinkles" followed by "The Many Faces of Ken Lynch"
Wonderment: A special "Flub of the Week" fused with an "AdLib or Not an AdLib" that will really tighten your Raccoon Hat! Also Trivia for YOU with a prize and the regular Trivia for Conte.
---
Support our Show
Back us on Patreon!
---
New! The Honeymooners Podcast T-Shirts!
You can get your limited edition Honeymooners Podcast T-Shirts here while supplies last!
https://tickets.non-productive.com/events/the-honeymooners-podcast-official-t-shirts/
Help support the show and show off your love of the best sitcom of all time!