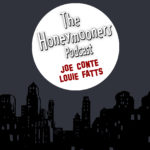 "Yes, Oh President!"

This episode we have a great time featuring the great actor Cliff Hall who played "The President of the Raccoons." We also do our "AdLib or Not an AdLib" segment, Conte admits it's Dibbo not Bibbo, and we tried the "What's that Noise" bit too, and of course, trivia. It's a fun show!
---
Support our Show
Back us on Patreon!
---
New! The Honeymooners Podcast T-Shirts!
You can get your limited edition Honeymooners Podcast T-Shirts here while supplies last!
https://tickets.non-productive.com/events/the-honeymooners-podcast-official-t-shirts/
Help support the show and show off your love of the best sitcom of all time!