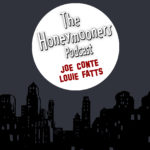 "Just a Couple of Hang Nails"

This sad episode takes a look at some of the "Sad Endings" of the 39 episodes. We analyze three of them and decide what makes them sad if at all. We also have two "AdLib or not an AdLib" to ponder. Finally we have three of our favorite subtle fat jokes from Ed towards Ralph. Don't be sad, SMILE SMILE!
---
Support our Show
Back us on Patreon!
---
New! The Honeymooners Podcast T-Shirts!
You can get your limited edition Honeymooners Podcast T-Shirts here while supplies last!
https://tickets.non-productive.com/events/the-honeymooners-podcast-official-t-shirts/
Help support the show and show off your love of the best sitcom of all time!