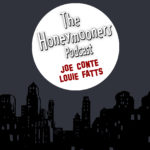 "I shall SKIP the technicalities."

This episode of the podcast we do a hostile takeover of the VERY underrated "Ralph Kramden Inc." episode.
---
Support our Show
Back us on Patreon!
---
New! The Honeymooners Podcast T-Shirts!
You can get your limited edition Honeymooners Podcast T-Shirts here while supplies last!
https://tickets.non-productive.com/events/the-honeymooners-podcast-official-t-shirts/
Help support the show and show off your love of the best sitcom of all time!