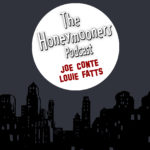 "Good Clean Fun"
Two fans yapping about the greatest show of all time.
A head-first deep-dive into Jackie Gleason's creation, the greatest TV show of all time, THE HONEYMOONERS. Comedian Joe Conte and his pal Louie Fatts are two full grown nuts & mega fans of the 39 classic episodes of this landmark series.
The maiden voyage of the podcast starts with a few questions:
Why is THE HONEYMOONERS considered one of the greatest shows of all time?
Why do a podcast about a show that's over 60 years old?
How did Joe and Louie first catch the Honeymooners bug?
We answer those questions and maybe a few more – hope you enjoy it!