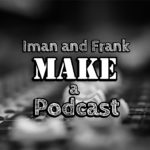 Iman and Frank are married, and have been for some time now – and for about as long as they've been married Frank has been secretly producing a podcast with Iman that was never really fit for air.

It still isn't, but we're releasing it anyway.
Frank and Iman just watched The Crimes of Grindelwald and then 6 months later decided to release this podcast of them rambling about it.
Listen, rank, and review Iman and Frank Make a Podcast everywhere fine podcasts are found!
This episode was originally recorded November 2018