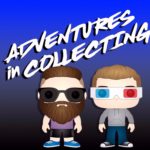 2022 New York Comic Con (NYCC) is a wrap and we have the sound bites to prove it! Hear from the Hasbro Marvel Legends Team, Augie from Super 7, Zach from Diamond Select, Rich from the Nacelle Company, Justin from Bandai, and Julian from the Noble Collection live from the show floor along with Dave and Erik's reactions to reveals and news from the con.
Use our special link zen.ai/aicpod and use aicpod to save 30% off your first three months of Zencastr professional. #madeonzencastr
This podcast is sponsored by BetterHelp. Visit betterhelp.com/aic to get 10% off your first month.
Follow us @aic_podcast on Instagram, Facebook, Twitter, and YouTube
Intro and other voices by Joe Azzari
https://www.instagram.com/voicesbyjoe/
Theme Music is "Game Boy Horror" by the Zombie Dandies
Proudly part of the Non-Productive Network