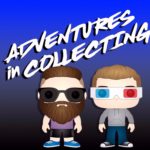 BOO! It's Halloween and this year, Dave and Erik are joined by horror efficiando and packaging artist at NECA, Chris Raimo to discuss his terror-iffic contributions to your favorite NECA products, his art, Tiki culture, and much more on this spooky annual Adventures in Collecting tradition.
Follow Chris on Instagram @plasticvampireart or visit his website https://plasticvampireart.com and keep up with the latest from NECA at @necaofficial on Instagram!
Use our special link zen.ai/aicpod and use aicpod to save 30% off your first three months of Zencastr professional. #madeonzencastr
This podcast is sponsored by BetterHelp. Visit betterhelp.com/aic to get 10% off your first month.
Follow us @aic_podcast on Instagram, Facebook, Twitter, and YouTube
Intro and other voices by Joe Azzari
https://www.instagram.com/voicesbyjoe/
Theme Music is "Game Boy Horror" by the Zombie Dandies
Proudly part of the Non-Productive Network