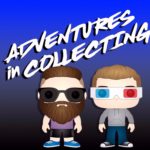 On this special bonus pod, Erik sits down with Ryan, Dwight, and Dan from Hasbro's Marvel Legends team to talk about the latest Marvel Legends news following the 2021 Hasbro Pulse Con – hear how you can get your requests in, what their favorite legends from 2021 were, and more!
Follow Ryan and Dwight on Instagram, and Dan on Twitter!
Stay up-to-date on the latest from Hasbro @hasbropulse on Instagram.
Follow us @aic_podcast on Instagram, Facebook, Twitter, and YouTube
Intro and other voices by Joe Azzari
https://www.instagram.com/voicesbyjoe/
Theme Music is "Game Boy Horror" by the Zombie Dandies
Proudly part of the Non-Productive Network
Advertising Inquiries: https://redcircle.com/brands
Privacy & Opt-Out: https://redcircle.com/privacy