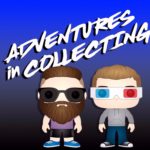 This week we launch ourselves back into the squared circle with one of Boss Fight Studio's founding designers Erik Araña to discuss his current and upcoming contributions to the wrestling figure world with BFS' Legends of Lucha Libre and MLW lines. Also – hear Erik answer questions from Adventures in Collecting followers and more!
Follow Boss Fight Studio on Instagram @bossfightstudio and visit https://bossfightshop.com to learn more!
Interested in investing in Zencastr? go to wefunder.com/zencastr to claim your slice of the Future of Podcasting!
Get 20% OFF @manscaped + Free Shipping with promo code AIC at MANSCAPED.com
Follow us @aic_podcast on Instagram, Facebook, Twitter, and YouTube
Intro and other voices by Joe Azzari
https://www.instagram.com/voicesbyjoe/
Theme Music is "Game Boy Horror" by the Zombie Dandies
Proudly part of the Non-Productive Network